The Shingle Springs Community Center is a gentle reminder of our unique foothill community. Steeped in a tradition of neighbor involvement, our center has served us since it was constructed in the early 50's.
The Community Center began as a community effort and is not endorsed by any government entity. It was constructed on donated land and is funded today as it was before, by donations, membership, and rental income. Our Center is supported by volunteer efforts and the continued involvement of our area residents and businesses.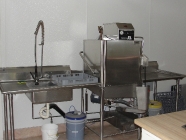 Before the economic issues of the past several years, our Community Center served as one of El Dorado county's Senior lunch facilities. At that time, the kitchen was modernized with commercial appliances including a dishwasher. This kitchen improvement supports the 325 person capacity hall area. Today, the multifunction venue is a popular choice for meetings, family reunions, and dance groups.
The horseshoe area has been provided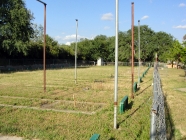 by partner Shingle Springs Horseshoe Pitchers Association, who generously constructed the facility with the agreement to let our members enjoy the sport when not in use by their organization.
Rotary Field, our soccer and little league field provides a dedicated area for community children to practice their athletic skills. It was constructed and funded by our friends in the Rotary Club of Cameron Park. This fenced, safe, and maintained field is available to rent for selected groups and events. It is not a community park, but has been made incredibly affordable to our members. Look over our rental rates and consider the attractiveness of the area, abundant parking, convenient location, and the fact that you will be supporting your neighborhood and tradition. We encourage members to enjoy the property, being the gift that it is.