The Shingle Springs Community Center is a gentle reminder of our unique foothill community. Steeped in a tradition of neighbor involvement, our center has served us since it was constructed in the early 50's.  For those of you who have lived here,  follow this link to a page about Shingle Springs, CA.
The Community Center began as a community effort but it is not a county owned facility. It was constructed on donated land and is funded today as before, by donations, membership, and rental income. Our Center is supported by volunteer efforts and the continued involvement of our area residents and businesses.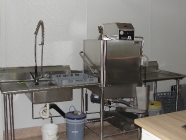 Before the economic issues of the several years, our Community Center served as one of El Dorado county's  Senior lunch facility.  At that time, the kitchen was modernized with commercial appliances including dishwasher.  See photos in our gallery or go there now by clicking here.  This kitchen  improvement supports the 325 person capacity hall area.  Today, the multifunction venue is a popular choice for meetings, family reunions, and dance groups.
The horse shoe area has been provided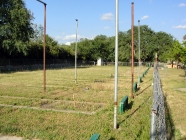 by partner Shingle Springs Horseshoe Pitchers Association, who generously constructed the facility with the agreement to let our members enjoy the sport when not in use by their organization.  Learn more or just browse through our center's Horseshoe area gallery.
Rotary Field, our soccer and little league field provides a dedicated area for community children to practice their athletic skills.  It was constructed and funded by our friends in the Rotary Club of Cameron Park.  This fenced, safe, and maintained field is available for rental for selected groups and events.  It is not a community park, but has been made incredibly affordable to our members.  Look over our rental rates and consider the attractiveness of area, abundant parking, the convenience of the location, and the fact that you will be supporting your neighborhood and tradition.  We encourage members to enjoy the property for the gift it is.
History of the Community Center
We are looking for photos!
The following information is in most cases paraphrased from a wonderful article we have framed in the Hall.  This loving history was compiled by Tom White, was published in the Mountain Democrat on September 24, 1980, during a fund-raising effort by the Center.  Tom was a former resident who was very active in the community who gathered historical information on the center from existing records.
The probable beginning for the Shingle Springs Community Center was in May or June 1951 when a group of local residents formed, without name, to try to do something in entertainment and social activities for then a new, growing community.  First records indicate that they met for time in the two-room Buckeye School for $5 per night.
Suggested names for the new organization were "Mud Springs Recreation District" and "Shingle Springs Community Club".  Fund-raising began with events like white elephant sales, cake sales, selling chances on donated articles, selling floor wax and vanilla extract, rides on donkeys and goats.
July 4, 1951 the group formed a charter with 139 persons signing the membership roll. There is no record of who led the meeting. The charter reads as follows:
"Let it be known, that on the memorable day, July 4, 1951, we the undersigned citizens of the Shingle Springs Community, organized the Shingle Springs Community Center; that our chief aim shall be to build a community center or clubhouse where all people of all races and creeds may carry on their religious, social economic and cultural activities, and where we may work together ONE FOR ALL, and ALL FOR ONE, so that our community may be a better place in which to live."
The group was meeting where and when possible, and trying to raise funds for land and a permanent meeting place until Sept. 19, 1951; the first real business meeting after the charter was held with the first officers presiding. Officers included Andrew Teague, president; Ruby Coval, secretary; and directors Arthur Williamson, Celeste Albert, Coval and Dal Murphy.
In October 1951 the club was incorporated.  In April 1952, through the efforts of Coval, a parcel of land in the amount of 4-plus acres was gift-deeded by David and Ruth Barnett to the club.  The deed of gift conditions and covenants stated that should the grantee become extinct or forfeit its charter, the premises shall revert to the grantor, heirs, or assigns.
Williamson was elected chairman of the building committee. His first orders where, "I want all men at the building site at 10 a.m. Sunday."  A strong organization, with a building site, was born and only 14 days later discussion started on the type of building to erect on the cleaned-up property. Members went door to door asking for donations in the amount of $1 to purchase each cement block for the building.   Donations of materials by several Placerville and area merchants were made.
By May 1952 the first bylaws where adopted, which said in part, "in the event the organization becomes defunct, all capital assets except the acreage under deed of gift shall become the property of Buckeye School District." The organization was recorded with the Department of Charitable Trusts as nonprofit.
In the late 1950s branch clubs were formed, including an active club "Tops N Teens" for youth.  This was the case for over a decade but, in the late '60s and early '70s enthusiasm waned.  A few members continued to pursue the meaning of the original charter and carry on during those times.
We will add more specifics as we learn and archieve the events of our wonderful past.  0's, 80's, 90's, 2000.